Torynn (talk) 08:07, April 24, 2013 (UTC)
So you've bought a new device and want to transfer your game over; there are several ways to do it.
Via Facebook
Edit
-on your original device, launch Gardens of Time. From the social icon (4th from left), login into Facebook to save all your game progress to-date. If you don't have a FB account, or don't wish to use your existing FB account, make a new email in gmail and create a new FB account solely for the purpose of backing up GoT. Remember....to backup your game you must login to FB through the GoT app: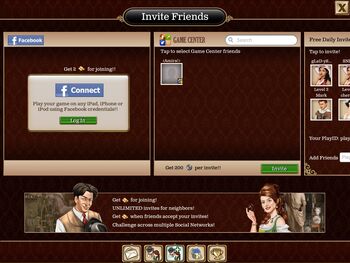 -on your new device, download the Gardens of Time app, ensure it's fully updated.
-launch the Gardens of Time app on your new device, and play through the tutorial.
-Once finished, go to the social icon and login to Facebook. You will be asked if you want to play your existing game.
You've just successfully migrated your existing game to your new device.
Note: beware the privacy issues with Facebook
Note: Game Center does Not backup your game.
Via iCloud/iTunes
Edit
-manually backup your old iDevice via iTunes -connect your new device to iTunes and opt to restore -all your Apps on your old device will transfer to your new device -GoT "should" be restored, but some have found this method does not work for them and they are not able to restore their old game
The only guaranteed way of backing up your game, is by logging into FB via GoT. You need only do it ONCE and your game is permanently linked and all progress is saved going forward.
(under construction)