Torynn (talk) 22:39, September 16, 2013 (UTC)
Visiting neighbours gives you the opportunity to earn extra goodies. For the first 20 neighbours/day that you visit you earn 50xp, 15silver, and 1 Energy - this will give you enough energy to play two more rounds.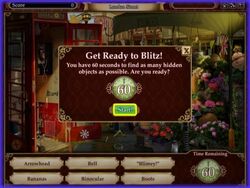 If you chose to play the blitz scene in your neighbours garden (by clicking on the ! beside your neighbours name), you can earn further silver (approx. 374+) and 100xp (energy is capped to 20 a day-although for some people this amount is lower).
Please note, you are limited to playing five blitz scenes at a time, but you can play 5 every hour!
There are currently 10 blitz scenes made for the mobile game, but only three are in rotation at a time. Our thanks to Jan1923 for all her help on these blitz scene images.
If you're having trouble finding some of those pesky hidden items in the blitz scenes, please visit the links below (click on the images to enlarge them if necessary):


Our thanks to Jan1923 for these images!